Indian PM, Narendra Modi has taken yet another step for his vision of cashless India. While addressing the gathering at an event in New Delhi, he launched an app called Bharat Interface for Money (short for BHIM app) which is aimed to encourage digital payments through a United Payments Interface (UPI).
The app allows any person to securely SEND and RECEIVE money through online banking transaction system, which means you will have to have a bank account plus the e-banking facility activated, to take advantage of the BHIM app.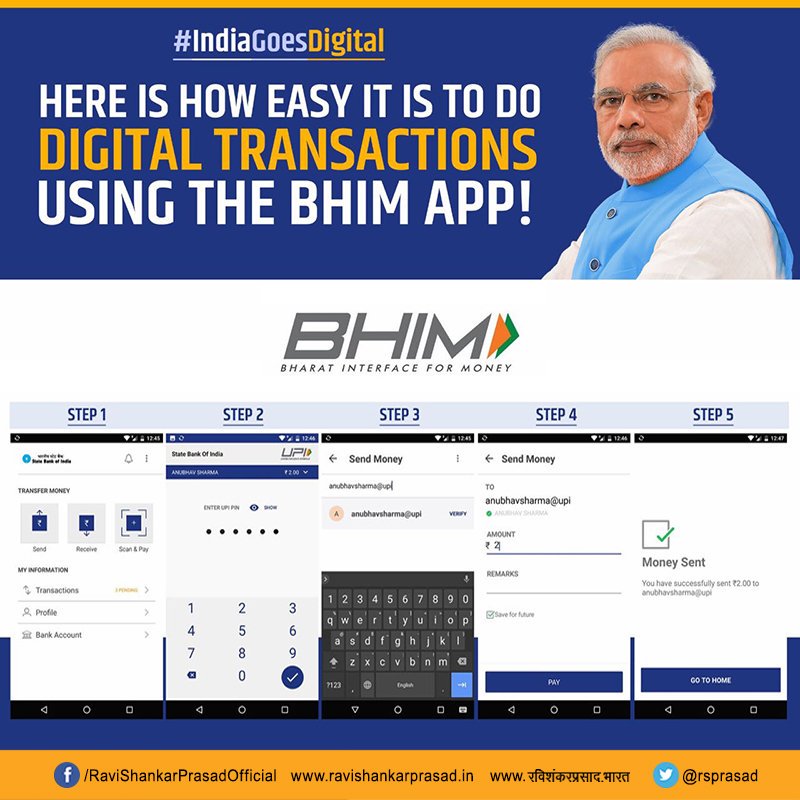 The app also allows merchants to pay or receive money by simply scanning a QR Code and the money is debited or credited to your bank within 24 hours. It even allows you to print the QR code for quick check-outs.
BHIM app is currently only available for Android devices but the iPhone app is expected sometime soon.
How to use BHIM app
Download the app from Play Store
Once installed, open the app and select your preffered language (Hindi or English).
Allow permission for whatever prompts you receive.( sms, calls etc)
Select a SIM card with the mobile number associated with the bank account, to receive transaction SMS.
Next, you will receive an SMS which helps to verify the app install.
Once verified, it will ask you to chose your 4-digit UPI pin code/passcode. This is an important step. Don't set it same as your ATM pin.
After you set your pass-code, select your bank where the transactions will take place. Currently, a total of 31 banks are supported (list is given below)
Input your bank account number and on the next screen it will show these options – Send, Request and Scan and Pay. You are good to go!
What banks support BHIM app?
The list of banks supported by the BHIM app is as follows:
Allahabad Bank
Andhra Bank
Axis Bank
Bank of Baroda
Bank of India
Bank of Maharashtra
Canara Bank
Catholic Syrian Bank
Central Bank of India
DCB Bank
Dena Bank
Federal Bank
HDFC Bank
ICICI Bank
IDBI Bank
IDFC Bank
Indian Bank
Indian Overseas Bank
IndusInd Bank
Karnataka Bank
Karur Vysya Bank
Kotak Mahindra Bank
Oriental Bank of Commerce
Punjab National Bank
RBL Bank
South Indian Bank
Standard Chartered Bank
State Bank of India
Syndicate Bank
Union Bank of India
United Bank of India
Vijaya Bank
What are the BHIM app transaction limits?
Maximum of Rs. 10,000 per transaction and Rs. 20,000 within 24 hours.
Since this is an early release of the app, so expect some bugs around the corner. But, don't forget to leave a feedback/review for the developers in the Play Store.
[appbox googleplay in.org.npci.upiapp]